Living Responsibly
Hello there,
Welcome aboard
Lets play,grow line and conserve together and be a part of the change.
Did you know that fashion industry is one of the most polluting industries in the world and responsible of around 20%of industrial water waste pollution worldwide.It kind of puts us on the spot.We love clothing,we love fashion but we also love our environment and so,we have created clothing that embraces nature instead of defying it.
We areagroup of enthusiasts,dreamers and action takers,who believe in manifestingabetter tomorrow.Fashion can be filthy but not if we start caring again.We make clothes that kids love to wear,without compromising with our environmental and social responsibilities. At Spunkies,we keep sustainability at forefront.We strongly believe in co-existence,and take conscious measures to stand by our ethos and bring meaningful change in the world.Our clothing uses premium quality materials and dyes,they are timeless essentials,can be usedalong time and passed from generations to generations.
What goes into our garments!
Materials we use represent the core essence of our brand values.We use 100%organic and recycled fabric for all our garments that are ethically sourced causing minimal environmental impact.Let's understand why.
Organic Cotton
We use GOTS certified high quality organic cotton yarns. Organic cotton is super soft and hypoallergenic.It helps reduce environmental footprint,uses no harmful chemicals, zero pesticides and considerably reduces the water consumption during harvest compared to the conventional cotton.It is better for the soil,air,water,famers health and also your skin.Give itatry,we are sure you will like it!

Recycled Polyester
Recycled polyester comes from old pet bottles,yes!the ones that end up in landfills or are polluting our seas. Thankfully they can be used to make super soft fabric with great elasticity.It causes less CO2 emissions and uses much less energy to produce polyester yarn from pet bottles as compared to its production from virgin raw material.
Care for the skin
| care for the planet
Our complete processing is GOTS certified and everything from yarn sorting to knitting,dyeing manufacturing,warehousing and trading is conducted only under certified conditions in designated areas.Our in-house production helps us keepacheck on the entire process and ensure that quality is not being compromised at any stage.
Low Impact Dying
We also use advanced water-saving dying machines at our fabric unit to reduce water consumption.It uses about 42% less water per batch as compared toaregular dyeing machine.Safe azo free dyes are used to prevent hazardous health conditions for workers.They also prevents irritability in garments and make it safe to wear for kids with sensitive skin type.Most of these are used at the ZDHC level3 or are certified by GOTS and OEKO TEX.
Upcycle and Uplift
We have developed a work flow which is both efficient and effective.We strongly believe that everything can become useful if you assignapurpose to it.All the cut outs and scraps of fabrics from our factories are used to make hairbands and potli bags that are later donated to NGOs and other self-help groups.
people friendly .
planet friendly .
skin friendly
Our garments are made with love for both the wearer and the planet.All the buttons and other trims used in our garments are plastic and nickel free.We ensure that every garment is responsibly made and is safe to wear.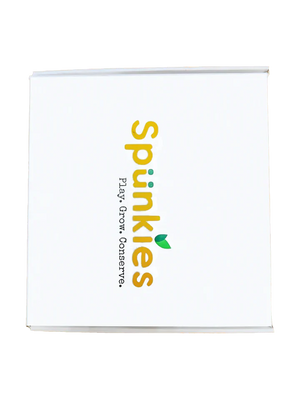 All our products are packed and shipped in biodegradable packaging materials.We use recycled FSC tags,paper tapes,and recyclable mailer boxers for every delivery we make.
We feel responsible for creatingabetter future and giving back to the community and the planet. Our mission is to fosteraworld where we are mindful of our surroundings and cautious of every impact our actions make.We are continuously trying to improvise and make Spunkiesabrand that is sustainable in every aspect and provide our consumers the transparency they deserve throughout the process of product design,material selection,manufacturing,logistics and the overall supply chain.

It's a collective venture of care,fun and fashion.We are doing our bit,beapart of our family and do yours.:)